Imagine always forgetting your headphones and never being able to properly understand what an Instagram or TikTok video is saying. How would you understand the countless number of jokes on TikTok that rely on the user to listen to the song lyric or audio? This is the case for up to 48 million Americans who suffer from hearing loss or hearing impairments in one or both ears, according to John Hopkins Medicine. Many of those are daily users of both Instagram and TikTok.
To increase awareness and accessibility for users with hearing impairments, both TikTok and Instagram recently launched auto-captions features. Auto-captions are not new, however. Even tech giants such as Apple and Facebook have added features in an effort to make rising technology and their new products more accessible for all. In 2009, Apple launched VoiceOver, a feature that gives audible descriptions of whatever appears on the user's screen. In 2016, Facebook also incorporated automated alternative text on photos that described the photo on the user's feed to the user. Although these advancements take a stride in making social media accessible, there is still a long way to go.
While they did have the option for IGTV, Instagram now allows auto-captions for video stories and Reels. This is important considering almost 500 million people use Instagram Stories everyday. To add the feature, a user must first use the app to record or upload a video. Then, they can press the stickers button, which opens up an array of stickers, including the new "Captions" sticker. After a few short moments waiting for the video to transcribe the audio, captions are automatically generated. With Instagram, the users can customize the caption and change their size and placement on the video.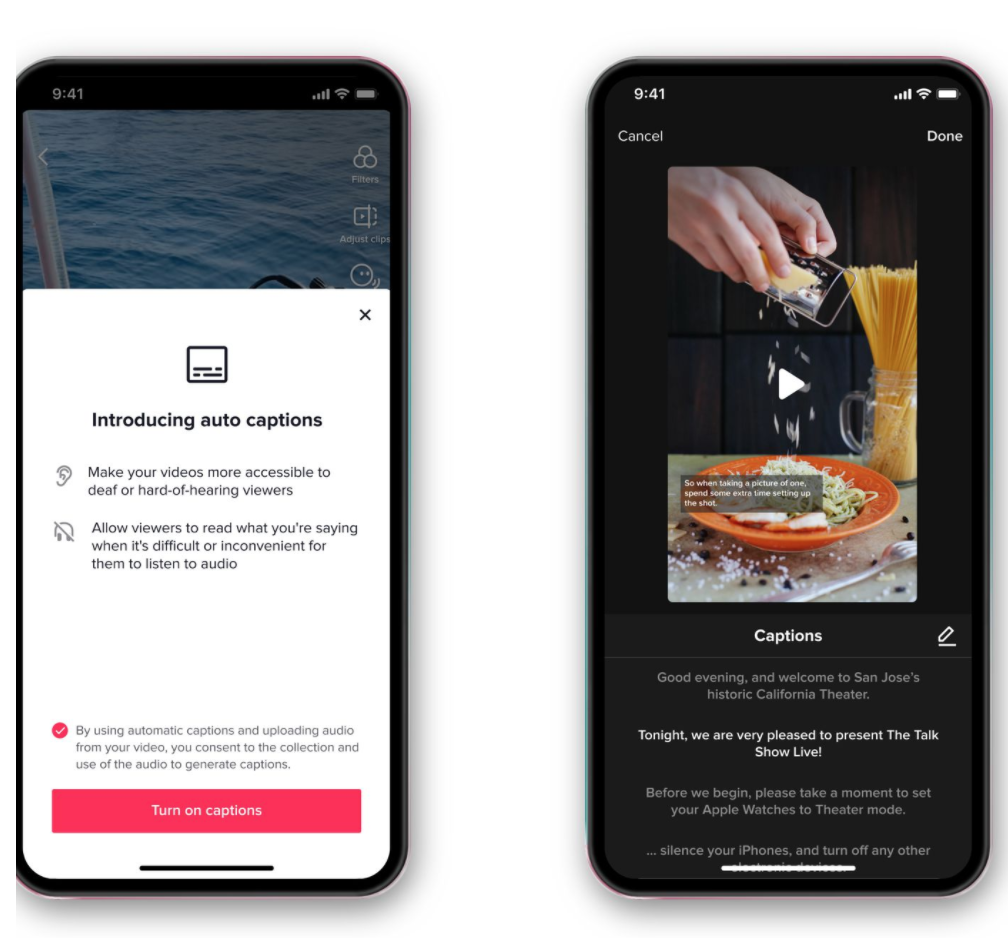 TikTok's auto-captions feature is very similar to Instagram's, however, there are a few noticeable differences. For one, Instagram's captions are only currently available in English, but TikTok's are available in English and Japanese (Way to one up Instagram, TikTok!). However, TikTok's captions are not customizable, and users have the option to disable captions if they don't want to see them on the videos on their feed. Furthermore, TikTok users can edit their captions in case the text turns out to be incorrect. Unfortunately, TikTok's captions have not been used as widespreadly due to the number of other features it already has regarding captions. TikTok creators are mostly sticking with creating their own captions using the text feature, or are using the built-in text-to-speech feature in which a Siri-like voice reads out loud the text put onto a video.
TikTok has also worked with the organization the Deaf Collective to bring awareness towards people with hearing impairments. Even though tech companies and tools have a long way to go to make its products and apps accessible for everyone, it is considerable to see that footsteps in the right direction are being made.